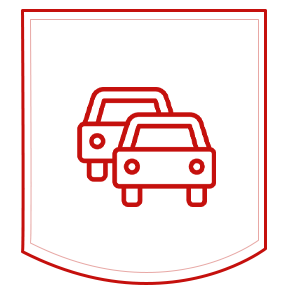 You're Not Alone
Never handle a traffic citation on your own. Even a minor infraction can cause major problems for you down the road. A single citation may end up preventing you from landing the job you want or receiving a commercial driver's license. And if you have a commercial driver's license, you might lose it. Furthermore, if you represent yourself or don't have an experienced traffic attorney in your corner, you are more likely to face a worse punishment. With the law firm of Wilson, Lackey, Rohr & Hall, P.C., you won't go at it alone. One call is all you need to make. Let the experienced team of Wilson, Lackey, Rohr & Hall, P.C., take care of the rest.
There is no shortage of citations you may be written up for. These citations can range from speeding to texting while driving, passing a stopped school bus or emergency vehicle to reckless driving. It can be difficult to know what to do. The lawyers of Wilson, Lackey, Rohr & Hall, P.C. know the laws and will help you.
If you were involved in a commercial vehicle accident, there are more specific requirements you need to follow than a traditional car accident. This is because it's not just you and another driver. It is you and a driver that is either working for or contracted by a company. This may mean either the driver, the commercial company, or both are responsible.

On the other hand, it is extremely important to keep your record clean if you are a commercial driver. A single citation may result in the loss of your license. Should you ever find yourself in need of legal assistance to protect your livelihood, Wilson, Lackey, Rohr & Hall, P.C., has the commercial vehicle traffic law experience you're looking for.
As a motorcycle rider, you know how much more dangerous it is for you than others on the road. You need to be extra careful and often make up for the lack of defensive driving that other drivers on the road exhibit. If you are injured or are involved in an accident, your insurance provider may not help. But Wilson, Lackey, Rohr & Hall, P.C., will. All it takes is a single phone call.
Traffic citations can quickly turn into serious legal matters. Whether you're facing the loss of your license or legal charges related to the injury or even death of another driver or pedestrian, it is of critical importance for you to defend yourself with the right attorney in Lenoir, NC. Wilson, Lackey, Rohr & Hall, P.C., will defend you to the fullest extent of the law and will do everything in their power to protect your rights and your freedoms. So if you're facing court regarding a traffic citation, don't go it alone. A single phone call to the law firm of Wilson, Lackey, Rohr & Hall, P.C. may be the best decision you make.