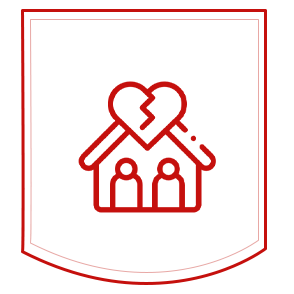 Separation laws between and among states vary. In North Carolina, married couples can only be considered legally separated when the parties no longer reside together and intend to remain living apart permanently. Legal separation commences on the day when one or both parties move into a separate residence with the intention of making the separation permanent. While separation agreements are not required to be legally separated in North Carolina, separation agreements remain an effective tool in settling issues surrounding the separation and eventual divorce such as, but not limited to, child custody, alimony and property division, and spousal support. Separation agreements also allow parties to avoid costly and time-consuming litigation while maintaining control over the course of the negotiations towards a mutually-beneficial outcome.
What is a Separation Agreement?
A separation agreement is a private, written, and legally-binding contract between parties who are already separated or who plan to promptly separate which details how the issues associated with the separation and eventual divorce will be handled. Separation agreements are products of mediation and negotiation involving varying terms and conditions relative to the separation until a mutually-agreed outcome is reached. Generally, couples create this agreement to make their separation as smooth as possible as they prepare for a divorce. Other couples begin the process of drafting a separation agreement towards the end of their divorce to make the final split more peaceful and equitable.
What are the Common Elements of a Separation Agreement?
Parties are given a certain degree of freedom to include any elements in their separation agreement as long as they are not contrary to public policy.
The following are the common elements of a separation agreement in North Carolina:
Marital residence. If both parties own the home together, a separation agreement can specify who gets ownership of the house after the divorce, the price one spouse would pay to the other in exchange for ownership of the property;
Child custody and child support. If there are children involved, there are clear guidelines for physical and legal custody, visitation, child support payments, and additional decisions related to these situations;
Property and debt distribution. A separation and property settlement agreement may specify who receives marital assets and property such as cars, furniture, bonds, electronics, stocks, and savings accounts .The agreement can also cover which party is liable for specific debts both current and future;
Spousal support. The agreement can address the amount of spousal support payments, how long the payments will continue, and the frequency of payments.
To be valid, a separation agreement must be in writing, signed by both parties, and both signatures must be notarized. Once signed, a separation agreement can be enforced by a court order should any of the parties failed to comply with the contents of the separation agreement. The courts can order any of the parties to comply with the terms and conditions of the separation agreement.
Do I Need a Lawyer To Handle My Separation Agreement?
North Carolina law does not require you to hire a lawyer in order to draft and develop a separation agreement. Some married couples can handle their separation agreements themselves with the help of the internet. However, online generic templates are not advisable substitutes for the expertise and experience of a qualified lawyer. Having a lawyer will ensure that your rights are protected, that conflicts and disagreements are resolved amicably, that no party is taken advantaged of, and that you receive the outcomes that are mutually-beneficial.
The skilled lawyers of Wilson, Lackey, Rohr & Hall believes that while separation is hard, it need not be difficult. Our team will provide personalized attention to help you craft a separation agreement that advances and protects your interest now and in the future. We are ready to schedule a confidential consultation immediately.